StrongVPN – StrongSwan IKEv2 VPN stable & free VPN proxy for Android
StrongVPN – StrongSwan IKEv2 VPN stable & free VPN proxy for Android is a free and unlimited VPN (Virtual Private Network) proxy for Android devices. StrongVPN masks your IP address, encrypts internet traffic, turns public Wi-Fi into a private network and helps unblock sites and apps on your Android phone so that users can access any restricted content safely and anonymously.
Demo: https://codecanyon.net/item/strongvpn-strongswan-ikev2-vpn-stable-free-vpn-proxy-for-android/31123958
Customer Mobile App Source Code (based on Android Framework)
Backend Web Admin Panel (based on nodejs Framework)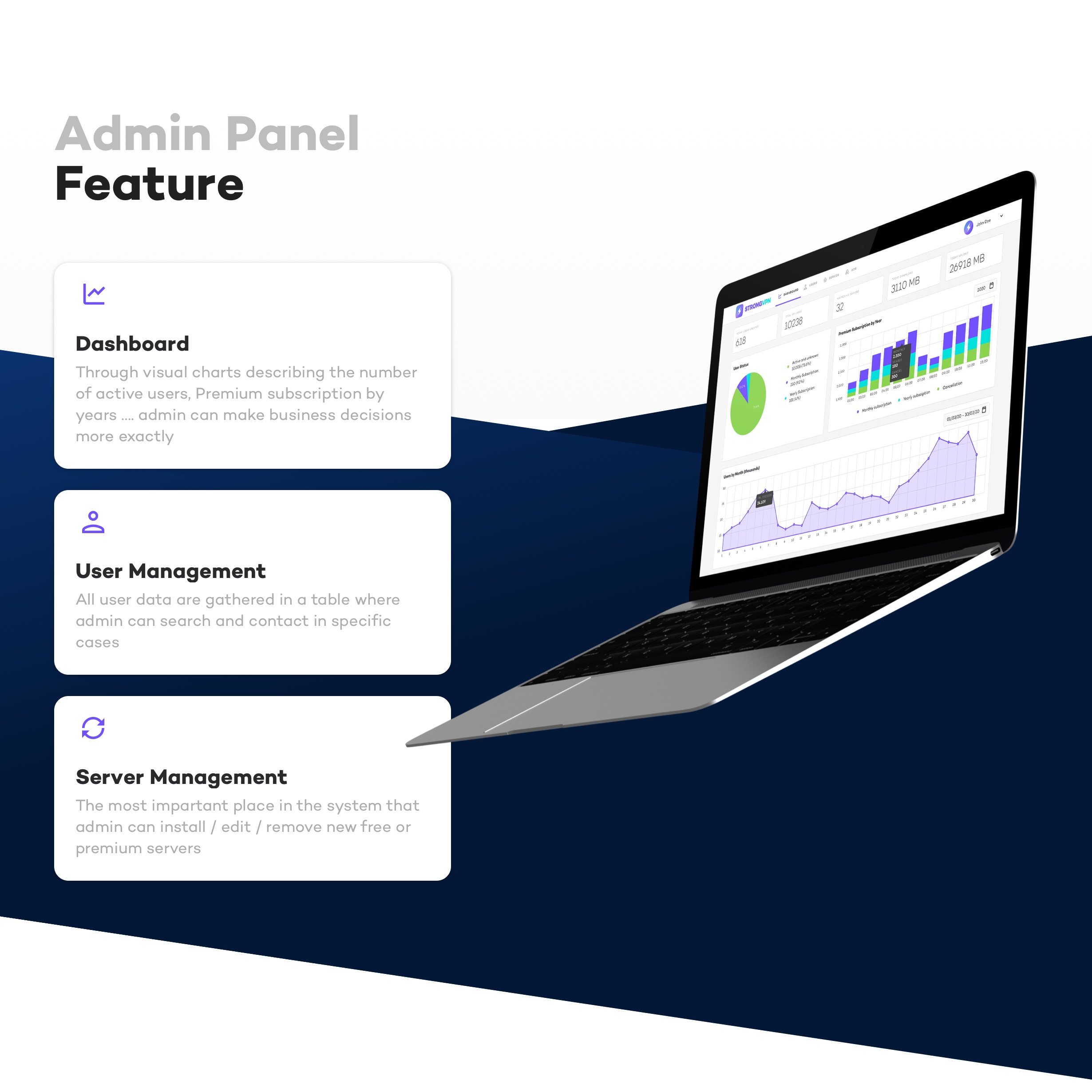 #1 Customer Mobile App:
⭐️ In-app purchase
Users can get stars with 1-click. All payments are processed by Google Pay
⭐️ Ads banner
Full screen banner appears before visiting the premium page and bottom banner is fixed at the bottom of vpn and profile screens. Both of them work through Admob that is easy to set up at Admin Panel
⭐️ Low cost servers with unlimited bandwidth
Via high quality servers, users can unblock any apps or websites affected by government censorship and geo-restrictions [email protected]
⭐️ StrongSwan IKEv2
With advantages including supporting a wide range of encryption protocols, high-level stability and consistent connectivity, easy setup, super-fast VPN protocol, StrongSwan is an absolutely worthy choice
⭐️ Shield WiFi Hotspot & Privacy Protection
StrongVPN proxy have advanced VPN technology, no logs, hide IP address and encrypt your network traffic, protect users from data thief privacy damage
⭐️ OneSignal
The world's leader for mobile push notifications, web push, and in-app messaging
⭐️ Awesome UI Design and Animation
3 seconds is the average time for an app to impress and convince an user to download it. To do it, your app needs an eye-catching User Interface and App Icon. StrongVPN has been designed by the best UI designers who always ensure your app much more outstanding
#2 Admin panel
⭐️ Dashboard
Through visual charts describing the number of active users, Premium subscription by years …. admin can make business decisions more exactly
⭐️ User Management
All user data are gathered in a table where admin can search and contact in specific cases
⭐️ Server Management
The most important place in the system that admin can install / edit / remove new free or premium servers
Contact us
If you have any questions or suggestions, feel free to reach us on [email protected]  for more information.
By the way, don't forget to follow our Facebook https://www.facebook.com/witworkapp to stay tuned.
Also Download: https://web4free.in/rezervy-online-bookings-system-for-cleaning-maids-plumber/
Demo Account
  Demo url: https://witdoc.app/strongvpn/admin/
  Email: [email protected]
  Password: WitWorkApp
Inorder to Protect Piracy we masked original url with url Shortner kindly bypass and get your files. any Issues contact on telegram @cracyguy1
Password always: web4free.in