HighWayPro – Ultimate URL Shortener & Link Cloaker for WordPress
HighWayPro is the ultimate URL shortener & link cloaker for WordPress. Innovative user interface, powerful targeting options, automated link insertion, advanced analytics & more!
Demo: https://codecanyon.net/item/highwaypro-ultimate-url-shortener-link-cloaker-for-wordpress/24072007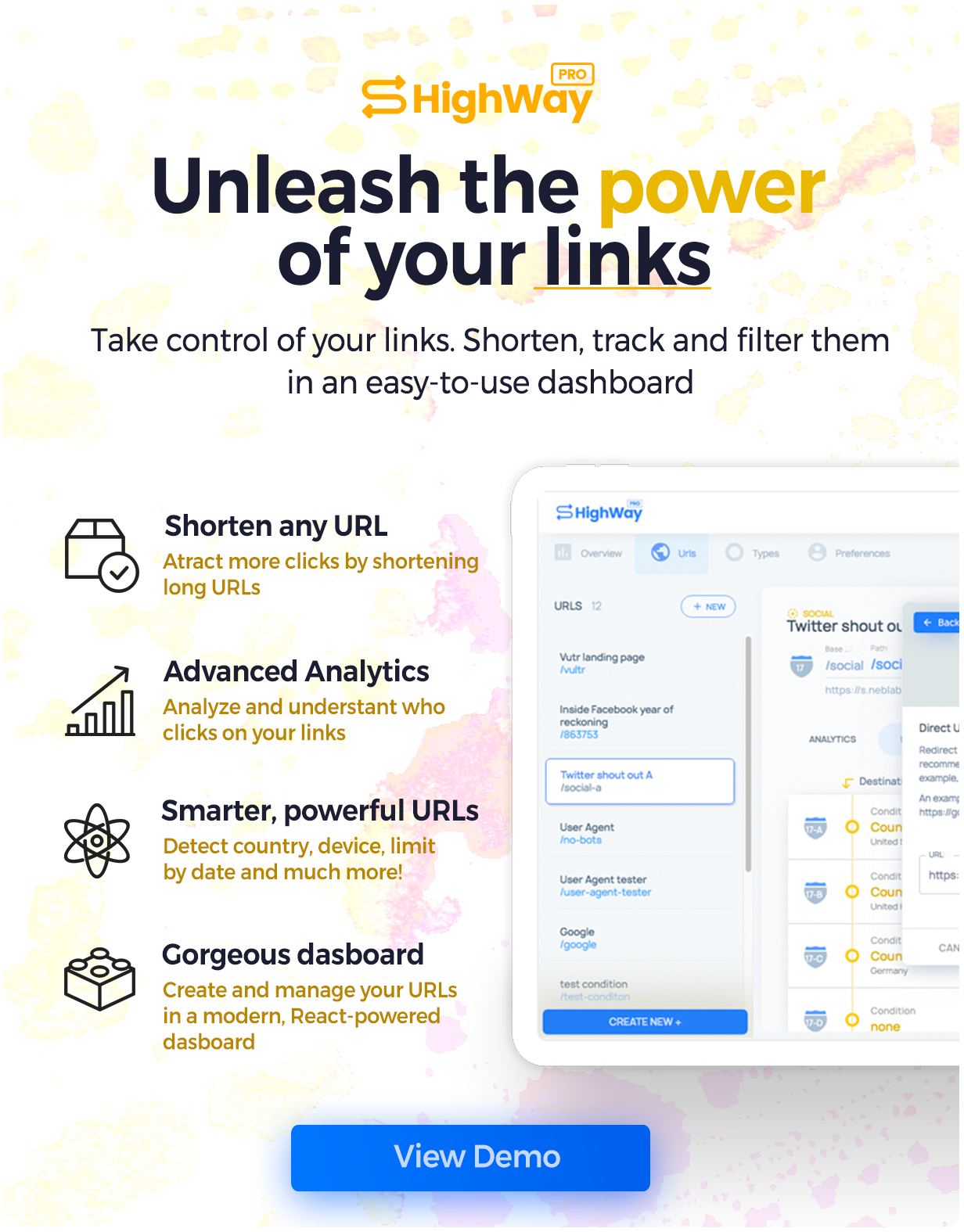 Your links, under your control
Store your links in one place, use them everywhere.
8 Condition Types (1 new): From country of origin to device used, send your traffic to different destinations
Advanced Analytics: Analyze who, where and how clicked on your links.
Automatic link insertion: Insert links into existing posts with the click of a button!
Track your social media traffic by creating and setting a short URL for every post, automatically!
Gorgeous Dashboard: Create URLs, view stats and more easily with the API-powered HighWayPro Dashboard
Send Users to Different Targets
Conditions are one of the most exciting and powerful features of HighWayPro. Redirect your traffic to different URLs based on the location they are, the device they are using, the web page they are coming from, and much more!
8 Conditions to Choose From
Device
Country
Disposable
Date Limit
Hour Range (NEW)
Referrer (Origin)
User Agent
Roles & Capabilities
6 Different Targets
Direct
Rotating (NEW)
Post Type (Post, Page, Product + more)
Content (Post type without redirecting) (NEW)
Taxonomy (Categories, Tags + more)
Not Found (404)
Full Feature List
8 Condition Types:

Device
Country
Disposable
Date Limit
Hour Range (NEW)
Referrer (Origin)
User Agent
Roles & Capabilities

6 Target Types:

Direct
Rotating (NEW)
Post Type (Post, Page, Product + more)
Content (Post type without redirecting) (NEW)
Taxonomy (Categories, Tags + more)
Not Found (404)

Advanced Analytics:

Clicks count for the current day, the day before, the current month and all time clicks
Total count and percentage of country stats
Total count and percentage of device stats
Total count and percentage of origin (HTTP Referer) stats
Stats for all URLs combined or by individual URL

Organize URLs by type
Add a different base paths to your URLs
Automatic link insertion: Insert links into existing posts. Limit the post type and the number of times a URL can be inserted
Control the behavior of the links within your post content:

Open in current tab
Open in new tab

Set the follow type to do-follow or nofollow, individually or globally

Track your social media traffic by creating and setting a short URL for every post, automatically!
Automatically create a new short URL for every new or updated post

Choose the generated path length
Generate paths:

Alphabetical
Numeric
Alphanumeric

Set the auto generated short URL to be used in social media (og:url)
Gorgeous Dashboard: Create URLs, view stats and more easily with the API-powered HighWayPro Dashboard
Tried-and-tested: 3,500+ unit tests
WordPress 5+ and Gutenberg Support
Translation Ready
Included Support & Online Documentation
PHP 7+ Support
Minimum Requirements
WordPress 4.6+
PHP 5.5+
To use the dashboard, a modern desktop web browser is required. (Google Chrome, Mozilla FireFox, Safari 11)
Update Change log
1.5.3 – August 30, 2021
-UPDATE: Minor improvements on the mobile version. Please note that the mobile version is still in beta.
-UPDATE: Optimized build, HighWayPro is now slightly more lightweight
1.5.0 – November 16, 2020
-NEW: Added support for websites using CloudFlare and Sucuri
-UPDATE: Updated geolocation database