FoodTiger – Food delivery – Multiple Restaurants
FoodTiger is new and powerful PHP scrips based on Laravel. Start your own food delivery business in minutes. Single restaurant food ordering app 3.0 NULLED – Android App with Admin Panel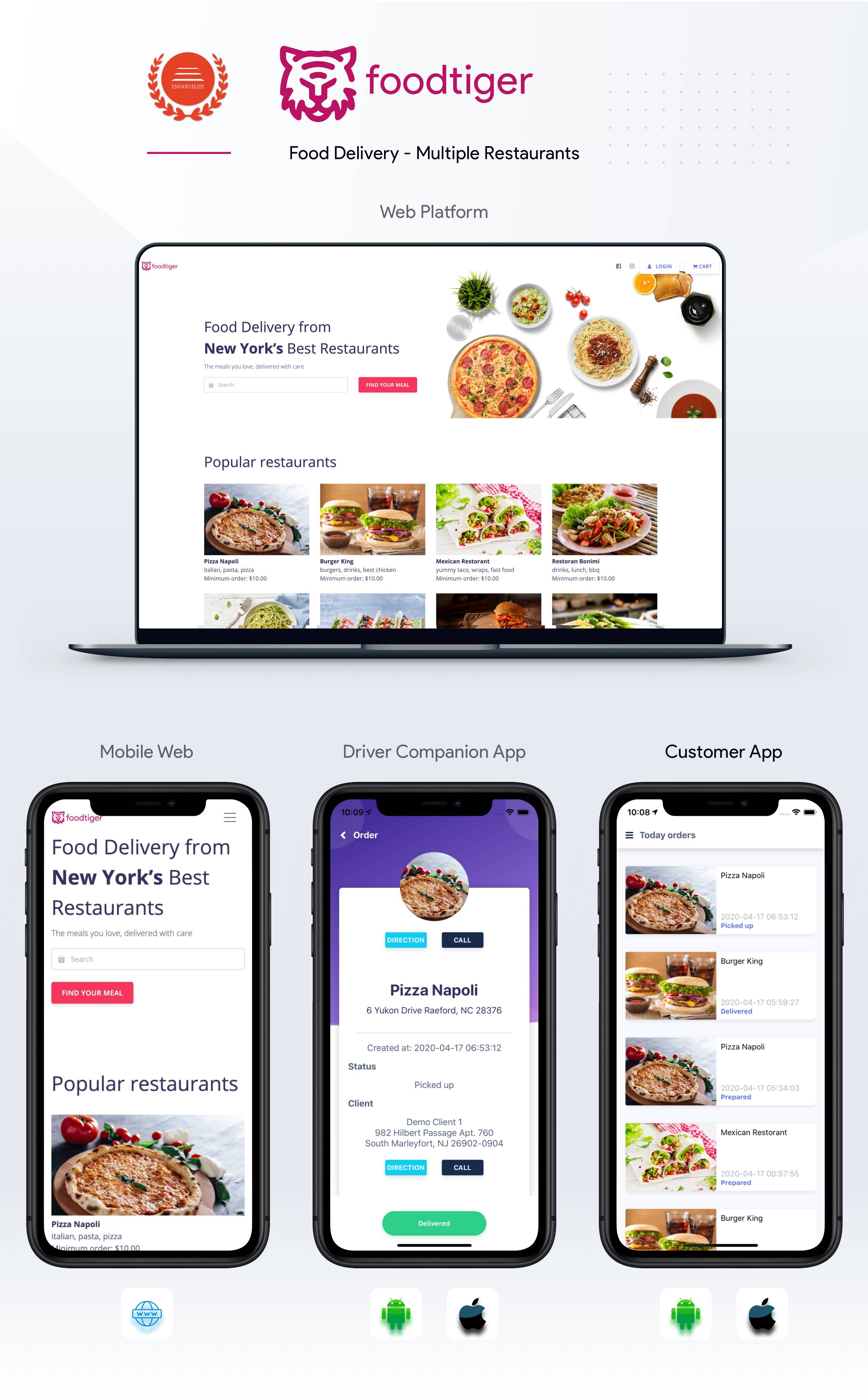 Demo: https://codecanyon.net/item/foodtiger-food-delivery-multiple-restaurants/26296970
FoodTiger is a new and powerful PHP script based on Laravel 8. Start your own food delivery business in minutes.
DEMO
Site ( Refreshes every hour )
https://foodtiger.site/
The demo credentials are displayed on the demo site
Administrator
You as administrator will be able to register restaurants, add drivers and assign orders to drivers. View powerful analytics for how much orders has been made.
Restaurant owner
Will receive orders for their restaurant both on mail and in the system. The will be able to accept / reject the order. Also, their will be able to manage their restaurant, categories, items etc.. Each restaurant get subdomain.
Drivers
Drivers are your employees. You can register them in the system. And soon as order is accepted from the restaurant, you will be able to assign to them. Drivers will deliver the order and change the status to delivered. Soon, mobile app for them.
Clients
Your clients are the ones who make orders from the restaurant. They can register, put their address and make an order from the restaurant they like.
Payment modules as Plug And Play

Restaurant management reorganization

vendors can set their own time slots intervals, prepare time and timezone
Just log in as admin, go to "Updates" and you should see new "New Update 2.4.0" button. Click on the button to update. Note that this is a bigger update. Please check the List of files to confirm it will not overwrite some of your changes if you have them.
If you have lot of users / clients and you are using other payment method for orders than Stripe, I will recommend full project backup, database and files. Afterwords you will need to download the desired payment method, and set up the way you like it. Please look into the update video to see what has been changed in the payment methods. Restaurants will need to reset the api keys for Mollie or PayPal if they where accepting direct payments.